Pierce Roofing Principal Mike Pierce:
Trained to Achieve in Roofing, Always Ready to Serve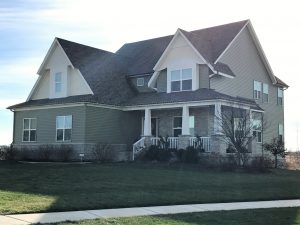 I first started working for my father's roofing company while still in high school. Performing every project from clean-up and roof tear-off to roof installation and exterior repairs taught me the profession inside and out – both what works and what doesn't. I later gained valuable experience in building-materials distribution through sales and ordering duties.
I also learned the importance of safety along the way. I am trained in OSHA-approved fall-protection systems and have led a safety program for my family's business. In addition, I have attended many different factory tours and product-training seminars to understand how different roofing products are manufactured, as well as how to best install them for you. I have further used this knowledge to educate M. Pierce Roofing customers through seminars of my own.
Beyond my background, a company's strength relies on the sum of its staff and the relationship between personnel and the owner. I have worked with and been close to all of my crews for years. I am fully connected to each project's progress and completion to ensure that we as a team achieve both our highest standards and yours.
We are here to provide you with premium workmanship at a fair price for your next home, office or multi unit–property project. Call us today at (630) 538-1523 to discuss your exterior or interior repair or improvement. Ask us about our customer-referral gift-card program as well!
Sincerely,
Mike Pierce