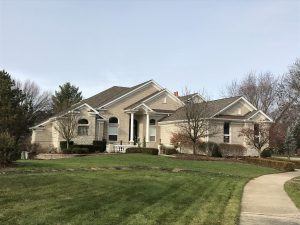 M. Pierce Roofing provides skilled roofing and roofing repair for Naperville, IL homes and businesses. Our tradesmen specialize in both exterior and interior repairs and refinements for your Naperville home, office or multi-unit project.
With a thorough background in supply and installation, we know which products will serve you best and how to implement them. We repair interiors damaged by water infiltration as well.
Call us at (630) 538-1523 today to discuss your project and request an estimate. Inquire about our customer-referral gift-card program as well!
Naperville, IL Roofing and Roofing Repair / The Origin of Excellence
Company principal Mike Pierce began working for his father's roofing company while still in high school. Performing every project from clean-up and roof tear-off to roof installation and exterior repairs, he learned the trade inside and out – both what works and what doesn't. He later gained valuable experience in building-materials distribution through sales and ordering duties and became thoroughly educated in safety as well.
He went on to further develop the company, understanding that its strength would rely on the sum of its staff and the relationship between personnel and management.
M. Pierce Roofing exists to provide you with premium workmanship at a fair price for your next home, office or multi unit–property project. Call us today at (630) 538-1523 to discuss your roofing repair or improvement project in Naperville, IL.
Singular Roofing and Roofing Repair / Naperville, IL
M. Pierce Roofing's complete roofing and roofing repair services for Naperville homes and businesses include:
entire tear-off and reroof
reroof without tear-off
new construction
repairs
low-slope roof systems
roof coatings
accurate material take-offs using EagleView® technology
We use only carefully chosen roofing products for your Naperville project:
Architectural fiberglass asphalt shingles (always recycled after tear-offs)
Three-tab shingles
Designer shingles
DaVinci Roofscapes
Cedar shakes
Steel
Contact us at (630) 538-1523 today to further discuss our roofing repair and improvements for Naperville, IL. If you wish, an M. Pierce representative will visit your property to assess your project and provide you with a no-obligation estimate.
Beyond Roofing and Roofing Repair / Naperville, IL
M. Pierce Roofing offers much more than superb roofing and roofing repair for Naperville. We also install vinyl siding, aluminum siding, and James Hardie® and LP® SmartSide® composite siding and cedar for your home or business.
We replace windows and doors for you in Naperville as well:
Wood windows
Clad wood windows
Vinyl windows
Steel doors
Fiberglass doors
Wood doors
Patio doors
Other skilled services for your Naperville exterior and interior include:
mold testing and remediation
water clean-up and drying
drywall repair
painting
tree removal
insulation repair
framing repair
Contact us at (630) 538-1523 today to learn more about our other essential products and services for Naperville, IL.
Local, Devoted Storm Damage Restoration / Naperville, IL
If a powerful storm strikes Naperville, out-of-state 'storm chasers' may arrive soon after to offer you a post-storm inspection. Their goal is to have you contract with them to repair any damage to your home or business.
These companies will use local contractors to work on your property. Once they are done in Naperville, they will focus on the next city hit by a storm. If you have any warranty issues with the repair work, you might have trouble addressing them because they have already moved on.
M. Pierce Roofing specializes in storm damage restoration for Naperville. Equally important, we are local and we stay local. If your home or business is faced with any further damage or warranty complications, we will be here for assistance and follow-up.
Our Naperville storm damage restoration includes hail, wind, lightning, water damage and damage from trees.
Contact us (630) 538-1523 if a recent storm has affected your home or business or you believe it has.