M. Pierce Roofing protects and beautifies Plainfield, IL homes and businesses with premium roofing, siding, gutters, and soffit & fascia provided by professional tradesmen.
Our background in both supply and installation qualifies us to know which products will serve you best, as well as which ways to implement them. We repair interiors damaged by water infiltration in Plainfield as well.
Company principal Mike Pierce learned the trade with his family while young. He continued to educate himself and build the business through direct experience in building-materials distribution (sales and ordering) and thorough safety training.
Equally important, he remained aware of and true to the essence of a company that unites and grows: Leadership by service, example and humility. Mike has worked with and been close to all of his crews for years. Together, they ensure that they as a team achieve both their highest standards and yours.
M. Pierce Roofing is here to provide you with premium workmanship at a fair price for your next home, office or multi unit–property project. Call us today at (630) 538-1523 to discuss your exterior or interior repair or improvement. Ask about our customer-referral gift-card program as well!
Plainfield, IL: Excellence in Roofing and Roofing Repair Work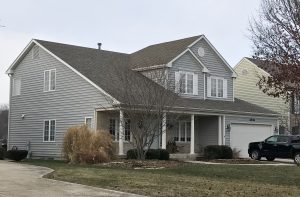 M. Pierce Roofing excels in thorough roofing and roofing repair services for Plainfield homes, offices and multi unit–projects:
Complete tear-off and reroof
Reroof (no tear-off)
Accurate material take-offs using EagleView® technology
Repairs
New construction
Roof coatings
Low-slope roof systems
We also use only those roofing and roofing repair products we define as having great quality and reputation through our experience with them:
Architectural fiberglass asphalt shingles (always recycled after tear-offs)
Three-tab shingles
Designer shingles
DaVinci Roofscapes
Cedar shakes
Steel
Contact us at (630) 538-1523 to further discuss our roofing and roofing repair for Plainfield, IL. At your request, an M. Pierce professional can visit your property to evaluate and estimate your project with no obligation.
Plainfield, IL: Beyond Roofing and Roofing Repair
In addition to roofing and roofing repair, M. Pierce Roofing installs siding for Plainfield homes and businesses:
Vinyl
Aluminum
James Hardie® and LP® SmartSide® composite siding and cedar
We also replace windows and doors for our Plainfield customers:
Steel doors
Fiberglass doors
Wood doors
Patio doors
Wood windows
Clad wood windows
Vinyl windows
Other essential services for your Plainfield exterior and interior include:
water clean-up and drying
mold testing and remediation
drywall repair
painting
tree removal
insulation repair
framing repair
Contact us at (630) 538-1523 today to find out more about our services beyond roofing and roofing repair for Plainfield, IL.
Plainfield, IL: Local, Dedicated Storm Damage Restoration
When severe weather hits Plainfield, out-of-state 'storm chasers' will arrive to offer you a free post-storm inspection. Their aim is to have you contract with them to repair any damage.
These companies will use local contractors for repair work on your home or business. Once they are done, they will move on to the next affected area. If you have a warranty issue with the work, you could be challenged in resolving it because they're focused elsewhere.
M. Pierce Roofing specializes in Plainfield storm damage restoration that stays local. We'll be here to assess and repair any storm damage, and we'll still be here if you have an issue or need additional follow-up.
Our restoration services include hail, wind, lightning, water damage and damage from trees.
If a recent storm has damaged your home or business, or you believe it has, contact us today at (630) 538-1523. Our trained personnel will know what to ask and look for in providing storm damage restoration for your Plainfield property.